Press Play to Listen to this Blogcast!
Have you ever felt like there are things you just can't do or places you can't go because you're unqualified?
For the last few years, Mel + I have had a pressing desire on our hearts to take Even Vanity Ends to school campuses.
But it wasn't until last month that we both vocalized our deepest fear in pursuing that dream: that we weren't qualified nor capable of handling the responsibility of helping the girls we'd encounter.
Having a few years under our belts of being leaders within our church's youth ministry, we know that there are deep hurts, pains and real struggles that high school and college girls are dealing with. So we were scared to pursue expanding the EVE community because we had convinced ourselves that we needed tons of training before ever stepping foot near any students.
Then last month, a dear friend of ours invited us to be a vendor at a youth conference she was hosting.
And it was there that a tweenage girl walked up to our table, sat down, and cried as she began spilling her heart.
She admitted that she hated herself. She felt like a failure because she couldn't live up to being like the other kids she looked up to. And then broke our hearts when she confessed that because of all this, she harms herself.
In that tender moment, we got the chance to love on her.
We cried with her and talked to her about the reasons why she felt inadequate. We encouraged her with the truth that she is loved by God, was uniquely made + has a purpose only she can fulfill–which doesn't include pleasing anyone or "fitting in."
Our hearts were full. And that same night, we were invited to host an event for group home teens. "Yes" left our mouths before our fears could talk us out of it.
We were told that the girls who would be at the event had been through unthinkable pain–from abuse and poverty to abandonment and sex trafficking.
In hearing some of their stories, we quickly felt grieved over the brokenness that these girls had grown to know all too well. Yet soon enough, overwhelm began to set in as those voices in our heads that told us we couldn't possibly help them. They had experienced too much hurt, were too far gone, and probably had thick walls barricaded around their hearts. Who were we to speak into their lives?
Feelin' all types of insecure and scared as heck, we jumped into the planning process anyway. Mel + I quickly decided we'd make our time with the girls feel like a party, a fun atmosphere where they'd know that regardless of how dark life has been, they are worth celebrating.
We talked for hours about what we should say to the girls, yet kept coming up short.
We felt like we needed some incredible, bring-the-house-down kind of message. Something that would wreck their lives (the good way). Something that would instantly change them. Something that would cause them to weep because it totally resonated with them.
(And even as I'm typing this, I'm realizing those expectations were all about how good we'd look, not how loved those girls would feel.)
It wasn't until the night before the event that Mel + I were keepin' it 100 about our anxieties.
We'd been praying for a message to share with these girls + hadn't come up with a dang thang.
We knew we wanted to share our personal stories, but felt like that wasn't enough.
We wanted to tell the girls the truth of how God sees them + who he says they are, but weren't sure they'd even care.
And as we voiced our fears, God reminded us that it's not our job to rescue these girls. Our only responsibility was to love them.
They didn't need fluff.
They didn't need anymore people in their lives talking at them.
They didn't need us to save them.
Instead, these girls longed to be heard + understood, for someone to say "me too."
They craved to be seen as people + not as a problem.
They needed love–both in words + action.
They needed a safe space to be themselves.
They needed to be encouraged.
And though we're not the best speakers on the planet, we knew that those were things we could totally do because ultimately, we just needed to be us. The rest would be left up to Jesus.
On the day of the event, we welcomed about 30 junior high + high school girls into the small, balloon-filled conference room.
Mel + I shared with them how happy we were that they were here, alive + present in this very moment. That though their past may be filled with stories of hurt + disappointment, we wanted to celebrate them because they're here.
You could feel the apprehension in the room, as if many of them were wondering, who the heck are these chicks? What's this all about?
But that quickly faded.
Thanks to the generous donations from many of you and Dina Peterson from D'Lash Co., each girl received a super cute gift box, full of fun goodies like sunglasses, jewelry, facial masks, CDs with inspiring music from our girl Christine Alicia, sweet treats and blinged-out headbands!
The girls' faces lit up with joy.
It felt like that simple act of making them feel special began to soften many of their hearts.
As a bonus, some friends of ours came out to host mini workshops for the girls.
Our wordsmith BFF Arielle Estoria did a session all about writing and helping the girls find the beauty of their stories. Sports coach + mentor Bry Williams came to host a workshop on goal-setting + living with purpose. Our newest friend Dami Tenin from Passion Barre got the girls movin' with her dance workshop. And the sweetest gal you'd ever meet, Katie Delaney, hosted a sesh on self-care + wellness.
Our amazing volunteers and workshop leaders took some time to talk with each girl and learn a bit about them.
Armed with blank name tags and sharpies, they asked the girls to share a word of affirmation they've always longed to hear spoken about them. And as they wrote the words on the name tags, it was our hope that though the girls may have walked in feeling the opposite of the name they were wearing, they'd leave beginning to believe it's true!
One girl–who couldn't have been older than 12–told one of our volunteers she wanted her name to be "mistake."
"You are not a mistake, and I will not call you that," she told her, lovingly but firmly. "Just for that, I'm gonna call you...gift!"
And before our eyes, we saw hope rising up in these girls, wearing names like:
Intentional.
Beautiful.
Peace.
Gorgeous.
Strong.
They then got to pick a workshop of their choice to go to. And in just under an hour, most of the girls went from soft-spoken to bravely vocal, from closed-off to shining with freedom to be themselves, from fearful to vulnerable.
We ended the day with a final session with all of the girls together. And with nervousness quaking in our voices, we began simply speaking from our hearts.
Mel + I shared our stories, including some of the most painful moments of our pasts.
We talked honestly about how those experiences caused us to view ourselves as unworthy, ugly, disgusting, ashamed, and much more.
And when we invited the girls to join us in sharing the lies they've believed about themselves, we all discovered pretty quickly that we had a whole lot in common.
We encouraged them to embrace Truth, that regardless of what's been done to them, said about them, or the mistakes they've made, God sees them as beautiful, worthy of love, enough, chosen, talented + so much more.
We ended by challenging the girls to write down the lies they wanted to let go of, and as a symbol of no longer holding onto these things, each girl attached her list to a balloon and released it into the air.
Tears were shed.
Hugs of grace were given.
And a spark of freedom was ignited in all of us.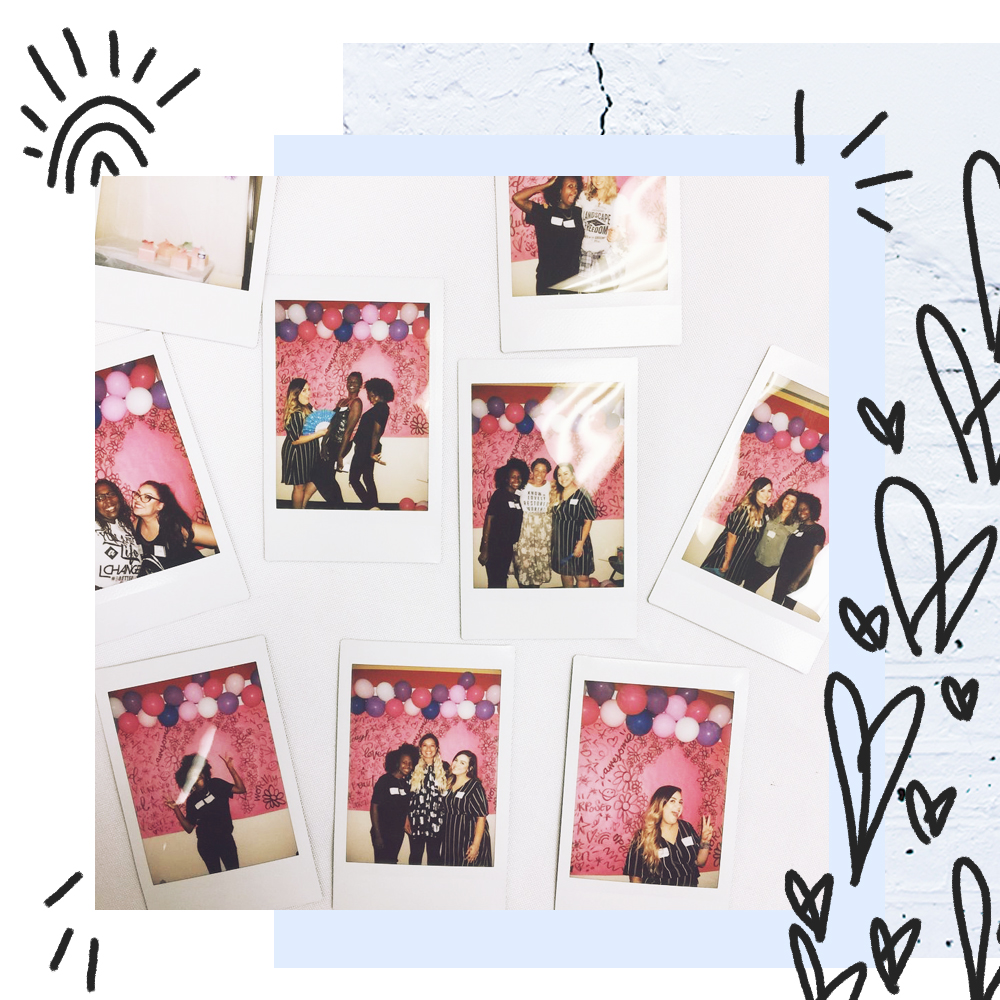 Maybe you have big, audacious dreams of doing something to make this world better.
The kind that eat away at your soul the longer you ignore them.
And maybe you've asked yourself, "Why me? Who am I to do this?"
Maybe you've been feeling like it's impossible to carry the weight of the call of purpose that's been impressed upon your heart, like there's no way you can do it.
Well sistahfriend...you're right.
In and of yourself, no, you probably aren't the girl for the job.
You probably don't have all of the knowledge and skills and experience to handle the monumental dream before you.
If people knew your past, sure, they'd probably run for the hills.
And yes, it is damn-near impossible that everything you've been wanting to see happen will happen, if it all depends on you.
But the beautiful thing is, it doesn't have to + was never meant to.
Your dreams aren't banking on just you.
Those wild wishes of your heart, those unfading passions that are ablaze within your veins have all been put there by God.
And because of that, you no longer have to worry about if you're smart enough, strong enough or schooled enough, because he wants to work through your frailty and imperfections to accomplish his purposes. Your only responsibility is to show up, to do what you're good at, those things that you just know to do. And the results are left up to him.
What you do have is heart. And that is enough.
You've got a longing to see God's power move in the midst of the impossible, to see his love penetrate and heal the most broken of places.
You've got an excitement for seeing people lead lives better than they were before.
That fear fluttering around the pit of your gut is a good thing...a great thing. It's a sign that you're not prideful enough to think you know it all. It's an indication that you're aware this epic thing will fail epically if God isn't part of it.
And so, we challenge you to say "yes."
To move despite the fear.
To go for it with all of your jittery nerves and internal freak outs.
I mean, isn't that what faith is all about anyway?
The more steps you take toward doing what God is asking of you, the more your fears are silenced.
A fresh wind of courage will empower you to keep taking strides, and before you know it, you'll be doing the very thing you said you couldn't do. And then you'll look back in awe of how God moved and will ready to slay the next giant up ahead.
Love On,
Kam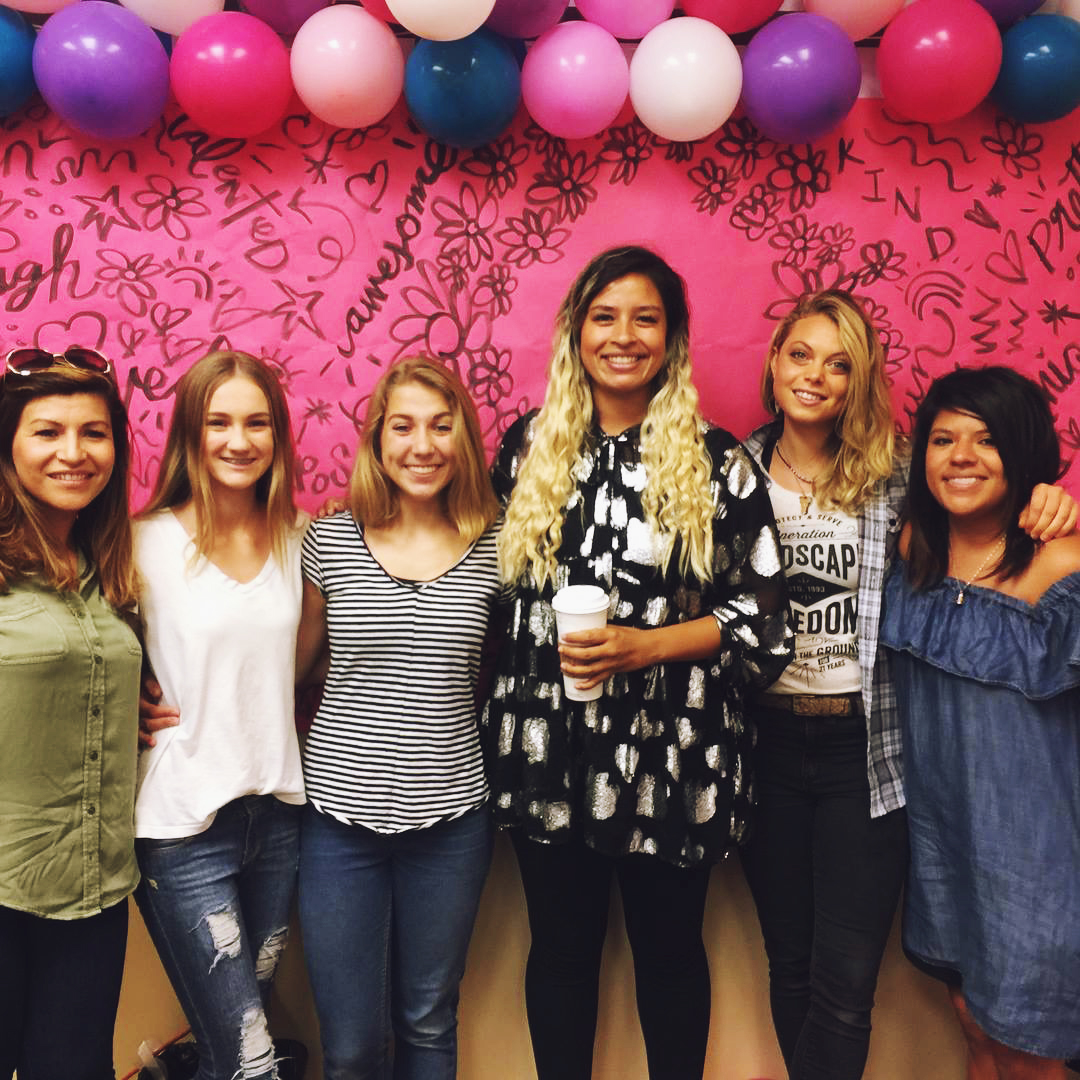 We've gotta give a special
thank you to everyone who
helped put this incredible
event together, especially:
Christina Boudreau | The entire Olive Crest team | Dina Peterson
Arielle Estoria | Bryana Williams | Dami Tenin | Katie Delaney
Deborah Smith | Sabrina Ybarra | Natalie Williams | Riquel Thomas
Barbara Knox | Alisa Boatright | Flo Williams | Ashlee Mantuano
The On The Edge student volunteer team | Christine Schick
**To maintain the safety + privacy of the attendees, no photos were allowed to be taken during the sessions. For those of you who've been wanting to see footage, we're sorry but hope you understand!